Big Dreams from Bay Area Suburbs
by P. Lesinski, Portland, 2006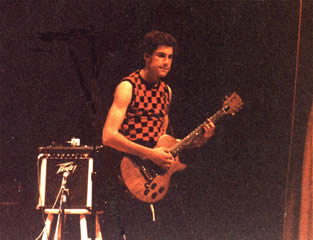 Cupertino-ite Paul Lesinski formally took up guitar at the tender age of ten, after burning through KISS and Alice Cooper albums on his brother's tennis racquet for two years. Once he learned the basics, Paul looked forward to the end of his guitar lessons where jazz wizard/teacher Jeff Buenz would help him pick out Beatles and Stones tunes to struggle through at home. Kevin Brown was running his Redwood City neighborhood though a similar ringer - albeit one that was much more audible than Paul's – with weekly drum lessons and frequent bedroom-pounding accompaniments to tapes at volume 11 on the Toshiba psuedo-Walkman.
Dry Heaving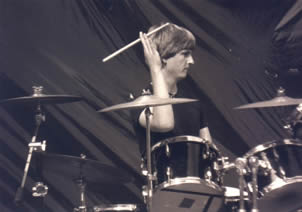 Paul met Kevin freshman year of high school and after sniffing each other's butts (figuratively of course), they found a common love for the heavier side of the musical spectrum, especially Rush, Deep Purple, Black Sabbath, Iron Maiden and Judas Priest. Soon, showing up for high school jazz band practice was a flimsy excuse for ripping through Limelight, Tom Sawyer and Spirit of the Radio after rehearsal when everyone else was clearing out, much to the dismay of the band director who just wanted to go home. Reflection on old tapes of these pre-White Stripes guitar-drum jams show an elevated level of detail and ability rare at this age. The two spent a few months with an older bass player and singer in a band affectionately called Dry Heave. It was a taste (pardon the pun) of things to come, but it wasn't the right mix of players, and Kevin and Paul realized they should start a group that would run counter to the New Wave focus prevalent at their high school, St. Francis in Mountain View, California. Great idea – now they just needed a bass player.
Enter Gomtart

With an enthusiastic grunt to the cross-quad shout "hey dude are you still taking bass lessons?", Tom Gutierrez became the third member of the band. Tom had been playing bass since he was 13, but still was not as experienced as Paul and Kevin. However, he shared a common interest in progressive, heavy rock. It was rumored he had started a moose worshiping cult (SCUMA) that revolved around "himself" as a deity. L. Ron Hubbard, eat your heart out. Tom soon introduced Paul to the band Yes, which was, like joining Tom's cult, life-changing for Paul. Soon, the trio sounded a lot more like a fifth-rate version of Rush, initially trying simple songs like Sweet Leaf and quickly moving on to complex tunes like YYZ (with drum solo of course) and 2112. And, to solidify the bond, Tom also joined the school band, playing tuba. Although perceived as a rather upright fellow, he eventually served detention for scrawling "bass clef kicks ass" on a poster for the school's family fundraising carnival, The Western Roundup.
Psycho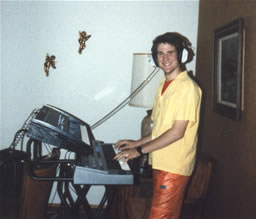 It was in these band classes that the three met Eric Johnson, known at the time as 'Psycho' for his – how do we say – 'inconsistent' behavior. Probably the most musically schooled of the four, Eric soon joined the band as keyboardist, but no one to this day is exactly sure why. He did not share the others' passion for heavy prog rock and did not want to be a Rock and Roll God like the others. But, for him, it was something to do and his commitment never wavered. Soon, songs like Subdivisions were sounding pretty tight, although quite fast thanks to Kevin's manic drumming. Keyboard-friendly jams like No Quarter, Peter Gunn, the Jesus Christ Superstar jam and the 'Zeppelin Medley' jam were introduced. The band was heavy and sounded killer – that is, for a band that played instrumentals. They needed a name. And a singer.
The Egyptian God of the Dead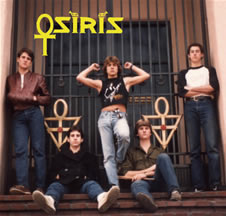 Right around this time, Iron Maiden put out their "Powerslave" album, which had a heavy Egyptian theme. A growing list of band names around really bad pre-Spinal Tap religious puns (Led Lectern, Steel Deacon, Leather Nun, Overlord) had been considered and discarded. Osiris, the Egyptian God of the Dead, seemed like the obvious choice. Also at that time, the band hooked up with its first singer, Todd Tholke. Todd was a great guy who bucked the tight rules-based system of St. Francis and was perfect for the job. He was a true fan of metal and leaned more towards AC/DC, The Scorpions and Ozzy Osbourne than the rest of the group at this point. He was also intimidating, which was great. The band learned a full set of material with Todd that included Bark at the Moon, Communication Breakdown and Living After Midnight. They even had an impressive, thematic photo shoot at the Rosecrucian Egyptian Museum in San Jose. But Todd had a hard time grasping the lyrics and spirit of music he was not totally into. After a fairly disastrous first gig during the Christmas dance at the high school, he was let go.
Enter Luce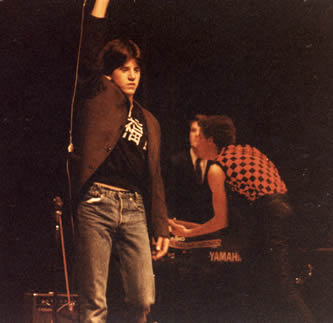 Tom Luce was a good-looking, nice guy that everybody liked. A true rarity in high school, he fit in with everybody - the football stars, the chicks, the smart kids, and the band geeks. The guy didn't have any enemies. And, Paul had heard, he could sing (but now can't remember why he got that impression). Another cross-quad conversation along the lines of "Todd's out, do you want to sing in Osiris?" led to the first rehearsals and the definitive version of Osiris.
The Heady Days of Osiris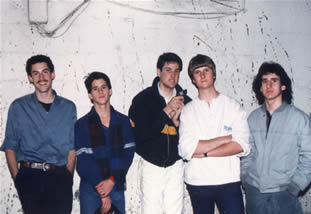 During the band's junior and senior years of high school, Osiris ruled. The start of their reign was winning the high school talent show with Limelight, Living After Midnight and Bloated, an original. The band then recorded and released a tape of all original material: four strong Sabbath-Maiden-Rush derivative numbers written by Paul and a five-song concept piece with contributions from the whole band. Osiris played numerous gigs during those two years -- and even some where the cops didn't show up. Some, like the band's show at the high school's annual Western Roundup fundraiser, and a show at Redwood City's Pony Express (pizza joint), were recorded and are circulated to this day. Other highlights included a show at the St. Pius Parish Hall in Redwood City, which was supposed to be the start of a string of similar gigs called the "Perish Tour" that never happened. The gigs at parties are too numerous to remember (or something).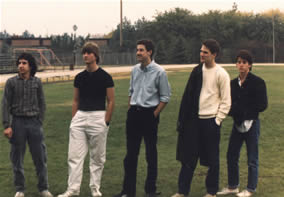 By now, the band had broadened its repertoire to include "New Years Day" and "Legs" along with more classic fare like "The White Room" and 80s Deep Purple's "Knocking at Your Back Door" and Judas Priest's "The Green Manalishi." The band's techie friends crafted impromptu stage effects: from a home-made smoke machine to catalog-bought laser, to triggers that turned lights off and on in synch with the pounding of Kevin's toms during the drum solo. Ah, to be high school rock stars.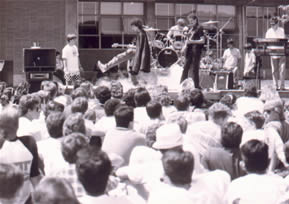 But alas, all good things must come to an end. During the latter part of senior year, Tom Luce decided to go his own way and do something different. Instead of replacing him, the remaining four did their last gig at Day on the Quad (a school-wide audience on the quad at lunch time) as an instrumental quartet. The band ripped through La Villa Strangiato, the Jesus Jam and Peter Gunn. Tom and Paul wore black capes. Paul sawed away at his Gibson with a violin bow Eric had given him as a joke. Kevin beat his drums into a froth and Tom was totally under control as usual. Eric looked mad. But then, Eric always looked mad. The stage was dressed with candles, skulls and a railroad spike, and the homemade smoke machine put out bleak wisps of fog. After the gig, the guitarist from a rival band told Paul, "Dude, you looked like Joe Satan up there!"
It was a month before graduation. It was a wake. The band was done.
But not without making an indelible dent in he minds of those who were there. Osiris provided the heavy metal soundtrack for the class of 1986. The band provided musical motivation for the Saint Francis Lancers Football team who played in the CCS championship all four years the class of '86 attended school. The band drowned out the boom boxes and stereos at parties (and at their neighbors), provided the local police a forum to meet girls, and gave the entire student body an alternative to New Wave fashion and 'music.'
1986-2006

Tom, Kevin and Paul stuck together until 1990, writing and recording under the moniker Dark's Ensemble. After the three graduated from their respective colleges, they went separate ways, staying in touch but not jamming much anymore. Paul joined The Strangers and toured for five years, playing just under 1,000 shows across the country. Kevin rode the Silicon Valley wave as one of the top brains and brawns behind the founding of search engine pioneer Inktomi. Tom became even more brilliant, earning a Masters and Doctorate in Physics from UC Davis. He is now a certified genius. Eric joined Aztecs in Manhattan and had a good professional run for six years before taking a break from music -- until recently. Tom Luce fell off the face of the Earth and re-emerged as a rock star, with hit records on San Francisco's KFOG and other stations across the country, with his music also appearing in movies and TV shows.
Enter the Risen Osiris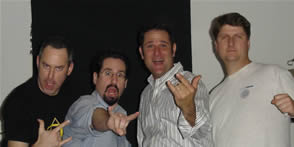 Over the years, Paul kept in touch with everybody. With 20 years of fading memories behind him, he and the others kicked around the idea of 'wouldn't it be funny to get the band back together at the 20 year reunion?' One thing led to another and the gig was booked – not only at the Class of '86 reunion but at the High School's 50th anniversary event the next day, in front of a much bigger and more public audience. Under this backdrop, Paul, Tom, Eric and Kevin got back together in February for the first time in 20 years to see if they could still remember the chords to "Smoke on the Water." As they dusted off the corpses of their favorite Osiris originals and covers over a two-night rehearsal, it was obvious that this was going to work. A set list was agreed on, and future rehearsals with Tom Luce were booked. The gigs are in May, and then who knows? Maybe the best is still yet to come…?
--PJL Portland, 2006